Nov 11th
December Temporary Timetable Due to Tier 3 Restrictions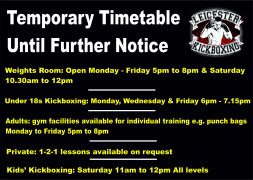 Reopening update
We will be reopening on Wednesday 2nd December, but with some restrictions to comply with the current Tier 3 guidelines. A temporary timetable will be in operation for December – read on for more details.
Weights Room: open Mondays to Fridays 5pm to 8pm and Saturdays 10.30am to 12noon for individuals to come in and train; all members are welcome to use the facilities. If there is enough demand, we will increase the opening hours to accommodate.
Kickboxing classes: Unfortunately, we are unable to resume normal classes, however, we can run organised sessions for under 18s. There will be sessions for this group three times a week; on Monday, Wednesday, and Friday from 6pm to 7.15pm.
Adults: You can come and use the facilities, such as, using the punch bags if you train by yourself or in a small family group bubble. These facilities are available from Mondays to Fridays 5pm to 8pm.
Kids classes: Will only run on Saturdays 11am to 12 noon (for all levels).
Beginners course: This is on hold until the New Year until we are told it is safe to start group classes again. In the meantime, please feel free to come in and do your own individual training.
Personal sessions: If you want to do a private 1-2-1 session please contact me to arrange. 
If there are any changes in restrictions, I'll get back in touch with you. I know this may not be what you hoped for, but I do hope you can still pop in and see us soon.
Any Question please do not hesitate to contact me: 07973 131993.
Yours Sincerely Jag