Getting Started
NEXT Adults Beginners course starts: Wednesday 25th May 2022 from 6.00pm - 7.15pm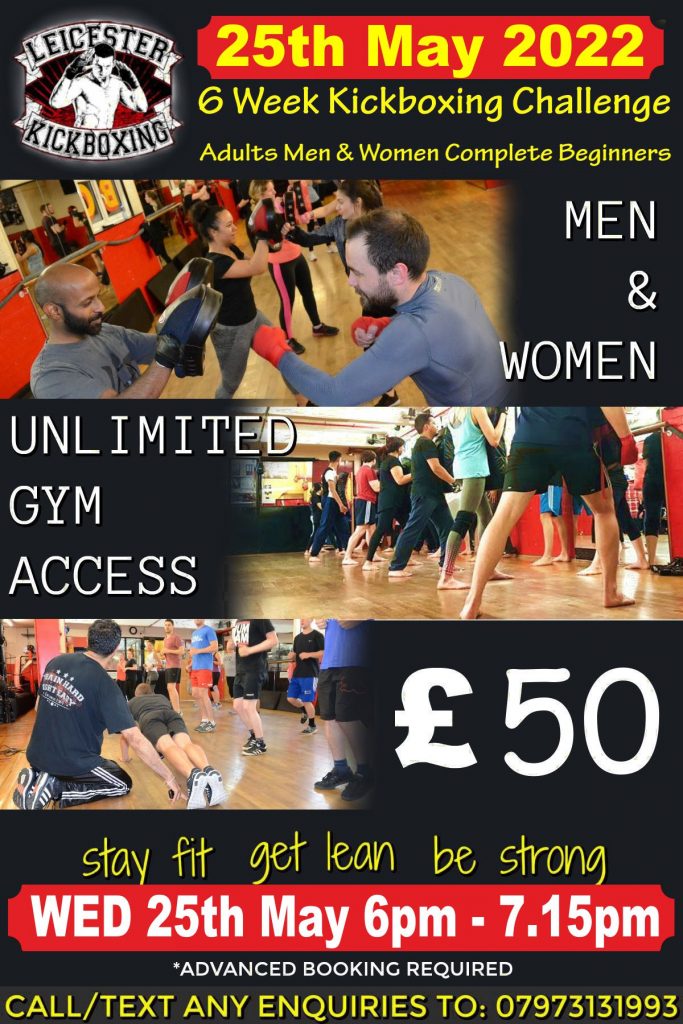 For just £50 you will gain 6 WEEKS access to Leicester's Renowned Kickboxing Club. Getting trained by Chief Instructor  Jag Johal with over 35 years of

experience

 and his team of experienced instructors. 




Course benefits:
- Dedicated Beginners ONLY Kickboxing Class
- Unlimited Fitness Suite Access (Come as much as you want for 6 wks!)
- Unlimited Kickboxing Classes (We recommend Mon & Friday Adult basic sessions)


NEW Kid's Beginners Course For January 2022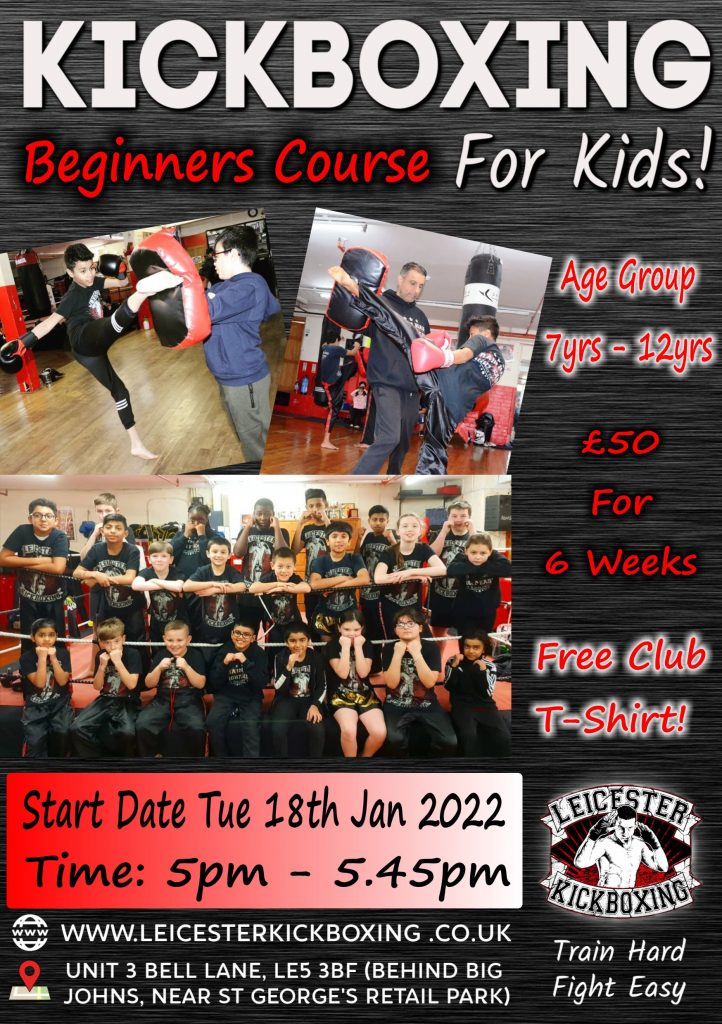 Our NEW kid's beginners course starts on Tuesday 18th January 2022. Classes will be held every Tuesday from 5pm - 5.45pm, for children between the ages of 7 and 12
Also include your child can attend our regular kid's basic session every Wednesday 5pm to 5.45pm and Saturday Mornings 10am - 11am at no extra cost whilst on the course.
Every child that enrols will receive a free Leicester Kickboxing T-shirt. 
This course is designed to help improve your child's confidence, fitness levels and discipline whilst learning self defence all in a fun and safe environment.
What is our Beginners Course About?
We want every who turns up to our sessions, to have a positive experience & we know that the martial arts world is a huge place with lots of clubs and schools all delivering martial arts in different ways.
You may have experience elsewhere, you may be a complete beginner.
Either way, this 6 week course is not JUST for complete beginners, it's also for returning members who feel too out of shape to return to our normal sessions, as well as people with experience in other martial arts schools who haven't trained the way we do here at Leicester Kickboxing Club.
When starting anywhere new, the last thing you want to do, is jump straight into the deep end and have a negative experience. That's why we offer the beginners course where we slowly ease you in to our normal sessions, whilst also offering you unlimited access to our normal sessions for whenever you feel ready to try them.
A lot of martial arts clubs, even supposed 'kickboxing clubs' out there, are actually teaching you semi-contact martial arts. Here at Leicester Kickboxing, everything you do is full contact. That does not mean you will be hitting each other, it means that we will show you how to hit pads and bags without pulling your power away.
In order to strike in this way, we will help you become physically fit and strong, using old school, tried and tested methods of training. Using your own body weight for exercises, and teaching you how to skip like a fighter to stay light footed and control your breathing.
Unlike other martial arts schools, there are no hidden fees, or unnecessary purchases. The bare minimum you will need is hand wraps (which we give you on the course anyway) & a skipping rope which you can either buy from us or bring your own.
Whilst you are on this course, you will be sure to have a laugh, and go home KNOWING you worked your whole body and mind.

Call 0116 2512933 or Ring/Text 07973 131993 to book today! - Remember these courses fill up fast so avoid disappointment and enroll today!
Women Only Session Every Tuesday & Thursday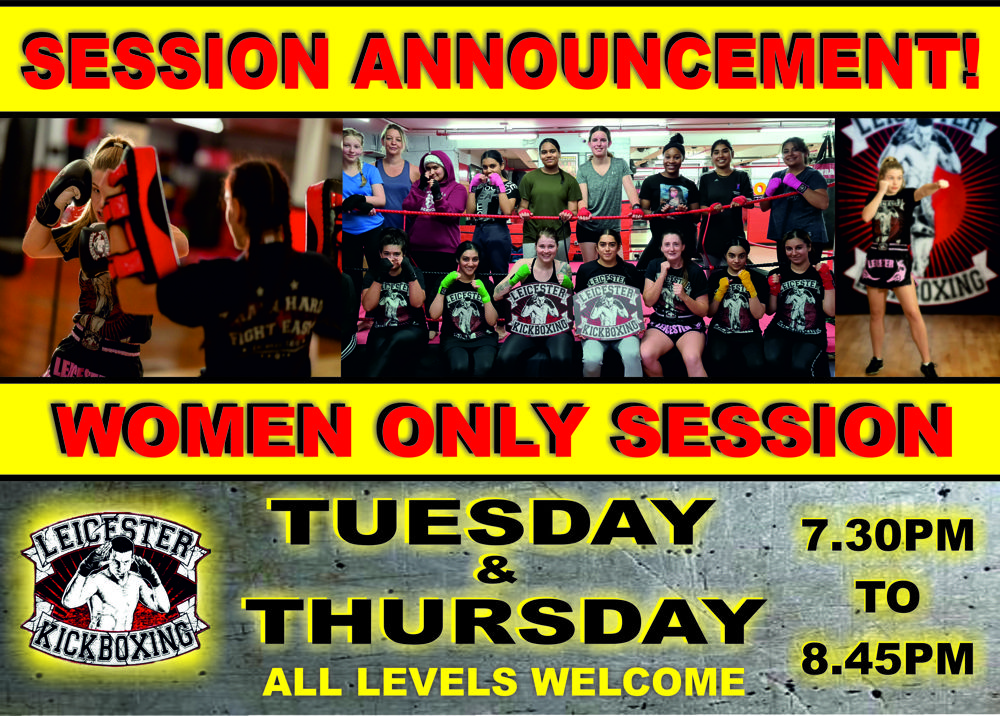 Due to popular demand Leicester kickboxing will be starting new women only kickboxing session, these kickboxing session will help motivate you to get fit. Our kickboxing sessions are designed to help you lose weight, tone up, and learn how to defend yourself. Whilst having fun.
The session are held on Tuesday & Thursday from  7.30 pm to 8.45pm  all levels are welcomed
Strictly for women only

Tel: 07973 131993
FAQS
Information about Leicester Kickboxing Beginners' Course
If you've ever wanted to have a go at the world's fastest growing sport, why not enroll on the
country's longest-running and most respected kickboxing club's beginners' course?
Who are We?
Leicester Kickboxing is one of the longest established kickboxing clubs in the country. We have
been running since 1984. Our club is respected around the country and we have trained and
produced champion competitors at the highest level.
However, most of our members stay with us having never stepped into the ring – kickboxing is a
great way to have fun, stay in shape, build confidence and increase self-defence skills. We have
hundreds of loyal members who have been with us for many years, and we appreciate that
competition is not something everyone wants and we are proud to say none of our members are
pressured into this.
What to expect
Our beginners' course is a six-week program designed to introduce you to the sport of kickboxing. It
will teach you how the main exercises needed to increase your strength, fitness and flexibility, and it
will make you familiar with the basic techniques used. Each week, we will focus on a single new
technique to ensure you have sufficient time to work become familiar with it.
Our aim by the end of the course is to make you a little fitter, stronger and knowing the basics of
kickboxing – ready to decide if the sport is something you would like to continue with.
The course comprises a weekly session of tuition by our team of experienced coaches who will give
you close supervision in a relaxed and informal atmosphere.
Our aim is that you sample the sport
and most importantly, have fun.
During the whole time you are on our beginners' course you will also have unlimited access to our
fully equipped fitness centre and weights gym, free of charge.
What not to expect
Tough Guys – many people say they want to try kickboxing but feel wary or intimidated. Don't be!
Our club is relaxed and informal and we can assure you that you'll be made to feel welcome. We do
not expect you to walk through the door as fighters, but as absolute beginners.
The Hard Sell – How many times have you been to a fitness club's 'introductory' sessions only to
find it is just a sales pitch? We will not give you any 'hard sell'. We let our sessions speak for
themselves. Nor will we tell you that need to buy lots of fancy equipment. You will not need any.
Getting Hit – Most people have to train for a long time before they step into a ring. You will not be
expected or pressured to engage in any physical contact or fighting.
Tea, Biscuits and a Comfy Chair – Although we will make out beginners' sessions fun, they are not
easy. We want to make you fitter and stronger and to do that, we need to push you. We will
encourage you to work to your personal limit without shouting or haranguing you.
What do I need?
You only need yourself. You do not need to come with a friend, although you are most welcome to
do so if you want. The only kit you will need is a skipping rope, and some boxing-style 'hand
wraps'. If you have your own, you are welcome to use them. If you don't we can provide you with
good quality kit at a low price – professional skipping ropes are £10 and hand wraps £5.
Common questions
"I am unfit! Will I manage?"
Yes. Our beginners courses are filled with people of all shapes and sizes. If you're unfit and you
want to get fit, kickboxing is a great way. We appreciate all people who start with us will be at their
own level, and we make sure you work only to your own limits. By the time the course finishes, we
hope you'll be fitter.
"Will I get punched or kicked?"
No. As explained above, you will not be pressured into any fighting or placed in a position where
you may get hit. If you want to do that, you'll have to train for a while before you are ready.
"Why Leicester Kickboxing?"
As ring sports gain in popularity, there has been a surge of kickboxing clubs springing up and
closing just as quickly. Put simply, we are the first, the original and the only real full-contact
kickboxing club in Leicester. We are driven by a love of the sport, and our gym runs on low
membership charges to encourage people to take up our sport. We have existed since 1984 and are
widely renown throughout the country.
"How do I join?"
Call us on 07973 131993. We'll book you onto the next course.