Sep 9th
BEGINNER COURSES for KIDS!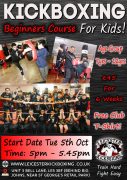 EXCITING NEWS!
Due to popular request, we are now holding BEGINNER COURSES for KIDS!
Our Kids' Beginner Courses are designed to introduce kids to the world of kickboxing. They will learn the fundamentals of kickboxing whilst building self-confidence, improve fitness, flexibility, and strength, all in a fun and supportive environment. They will also learn to develop important skills and values such as respect, discipline, awareness, and perseverance.
Course starts date: Tuesday 5th Oct at 5pm – 5.45pm
To book online: https://www.leicesterkickboxing.co.uk/eshop/
Or, drop us a visit at the gym Monday to Friday between 4.30 – 9pm.
We have limited spaces so book early to avoid disappointment!