Mar 3th
Coronavirus (COVID-19) Update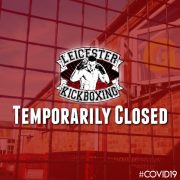 LEICESTER KICKBOXING COVID19 UPDATE -Takes effect FROM Wednesday 18th March 2020
We have been operating for circa 30 years, only ever closing at Christmas plus the odd bank holiday.
We have stayed true to the unique and independently run kickboxing club that you all know and love.
This club is our life, it's our everything.
Seeing you all come in after school or work to train with us and tell us about your days whether it be good or bad. That's why we do things the way we do.
Unfortunately a testing time is upon us, it's a time where it's near impossible to do right by everybody. We hope you all understand how hard it is to announce that we have decided to TEMPORARILY CLOSE the club for what we estimate to be 2 WEEKS unless we are instructed otherwise.
As a community club, we have a responsibility to make decisions in the best interests of the community. This includes all of our members, instructors and their families. Without healthy members and instructors, we don't have a club.
During this time, despite the ongoing separations and isolation that are ongoing. Togetherness is still massively important. We know how important the gym has become for you guys, it's part of your routine, part of not only your physical health but also your mental health. With this in mind, we ask that you help support your club by keeping your memberships active. We will be actively preparing for a bigger and better comeback in return.