Nov 11rd
Last Chance to join our Kickboxing For Beginners in 2014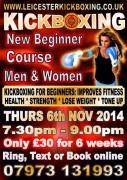 Last chance for 2014 as this will be the last Kickboxing beginners course for this year.
So if you have been considering taken up Kickboxing we are now taking booking for the next 6 week course, starting on Thursday 6th November from 7.30pm to 9pm.
This is a 6 week course designed for complete beginners to help improve your fitness, tone up, and lose weight whilst learning to defend yourself in a friendly fun atmosphere.
Cost is only £30 for the 6 weeks plus full access to our weights and fitness suite.
To enrol call us on 07973 131993 or simply book